By William Faas
At a time of austerity, cash-strapped Local Authorities must be resourceful and show iron determination to ensure as many energy savings as possible from limited budgets.
Background
Thanet District Council owns 360 commercial buildings which they lease to local businesses. Many properties are older buildings which pose particular challenges for energy efficiency. The Energy Performance Certificates (EPCs) for these buildings are generally at the F and G band ratings, usually due to poor insulating materials in the structure.
MEES Compliance by 2018
Thanet District Council's Senior Building Surveyor Alan Cook was already familiar with EPC's.
He recalled a system some years ago for improving energy efficiency called 'National Housing Energy Ratings' but he felt it didn't go into enough of the practical aspects.
The next phase of the new regulations – The Energy Efficiency (Private Rented Property) (England and Wales) Regulations 2015, known as 'MEES', come into force in April 2018 and will require commercial buildings to have EPC's with a minimum "E" rating. Landlords and property managers need to act now to ensure they don't risk non-compliance and potential fines of up to £50,000.
Alan and Assistant Building Surveyor, Tanya Carr advised the management team that the new regulations mean the council needs to act now to ensure compliance before the deadline. The message was clearly understood that non-compliant buildings could have an impact on the council's estate management. Consequently, Alan and Tanya set out on a more proactive and sustainable approach to resolving the problem.
The process started with a training session organised by Tanya and led by Stanley Rayfield of Survey and Test Ltd, for 12 people from the Estates team. This is the team that is responsible for making sure the commercial properties are returned to an acceptable condition once tenants leave. Stan described the policies and regulations that have led to the government imposing MEES.
 "That was a real eye-opener for us. The session was attended by people from many different knowledge levels. Energy efficiency standards can be a very dry subject, but Stan explained the context and the kind of pitfalls companies can encounter", said Tanya.
Starting with a challenge: Unit 20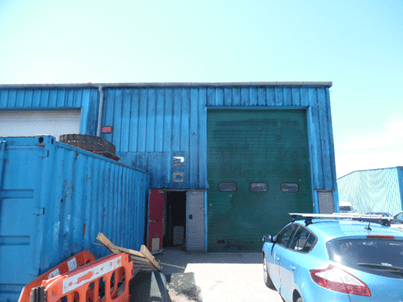 Alan and Tanya decided to start with the first council-owned commercial property which became vacant: Unit 20 in the Pysons Road Industrial Estate on the outskirts of Broadstairs.
Stan conducted a second, on-site training session for council surveyors at Unit 20 and took them through the details of his system. He discussed usual efficiency measures such as wall insulation as well as frequently overlooked items such as hot water storage.  Ordinary hot water heaters for instance, use energy to heat up a given quantity of water, but, since a large part of the heated water typically goes unused, the heat dissipates through the heater walls and into the air or adjoining wall. Stan recommended installing on-demand water heaters to reduce wasted heat energy – a low investment, quick pay-back solution.
One reason that energy efficiency measures are overlooked is that they become a visible, extra cost when they're implemented as a separate activity.  By properly planning works such as installing wall insulation so that it is done alongside works like decorating, which must be done in any case, the additional labour costs are mitigated.
Alan said that they'd had recommendations from other energy consultants in the past which covered a range of "generic" energy efficiency solutions – insulation, LED lighting, more efficient heaters – but without considering how the space was actually used and what was physically – and financially – possible to put in place.
New LED lighting did indeed make a major contribution to improving the energy usage in Unit 20, but a key to making it work was using the services of a lighting design engineer. Even though the space is not large, placing the lights to ensure uniform lighting coverage requires a little extra thought and planning but the results for quality of the workspace can be startling.
The improvements:

Before:

A key learning point was that it is crucial to keep track of what materials and products are installed during the energy efficiency improvement works. The technical specifications of the equipment, lighting, and windows must be identified for the EPC ratings to be accurately assessed. "Given the change in regulations we needed to stress the importance to our contractors of keeping product manuals and relevant documentation when they are busy doing the refurbishments", notes Alan. "I'm proud that the training Thanet District Council Building Surveyors delivered helped to raise the importance of this documentation in determining the ratings and ultimately to be more commercially aware".  As a result, new habits are being formed to systematically collate  information  which is providing an additional benefit. When a tenant moved out of a facility it was often difficult to know what its original condition was. The documentation helps to create a record of the "base" facility to compare with what changes the tenants may have made to it.
The result:  A better EPC rating than The Shard!
By making small, targeted improvements to the properties, Thanet District Council made enough energy savings in Unit 20 to move its assessed EPC rating from 339 (Band G) to 74 (Band C) – a leap of four bands. What's more, the measures taken in Unit 5 resulted in a rating of 53 – a full point more than The Shard in central London!  Whilst it is difficult to estimate the total savings from the efficiency improvements, Alan points out that that the average rental fees which would be lost while making a unit MEES-compliant would range from £6000 to £12,000 per year.
Encouraged by these results, Alan and Tanya are targeting other units for upgrade where tenants have given notice that they are moving.  They are also going ahead with a programme to put cavity wall insulation in units that are currently occupied since this can be done without disrupting the tenants' activities. They are certain that this alone will result in higher EPC ratings that will give them more flexibility on efficiency improvements to be made at the time of re-letting, depending upon their budgetary constraints.
But there are real benefits for tenants too. Stan estimates, 'based on a typical business profile, a tenant would see a reduction in energy costs of £567 per annum and a reduction in replacement lamps that would yield around £145 over the life time of the new LED lamps'.
Take-aways
By incorporating energy efficiency measures into normal, scheduled refurbishment activities their costs can be more manageable.
Taking the time to understand the details of the EPC assessment methodology shows the way to making small marginal gains which add up to big improvements.